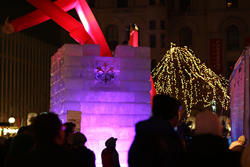 Energy Management Collaborative (EMC) announced today that for the third consecutive year it is using its LED lighting design expertise to illuminate the 2017 St. Paul Winter EMC will also provide lighting throughout Rice Park, including the music stage, the ice sculpture area and the entrances to the plaza.
The ice palace is one of the highlights of the Winter Carnival each year in downtown St. Paul. The theme for the 2017 palace is, "Towers of Boreas," honoring the carnival's mythical King Boreas. EMC has 164 color-changing LED fixtures on the nine towers spread throughout Rice Park, and combined with accompanying music creates a beautiful spectacle. EMC will also provide five conventional theatrical lights for the music stage.
"The ice palace is a wonderful opportunity to showcase EMC's creativity and to demonstrate how LED lighting design can bring unique environments to life," said EMC President & CEO Jerry Johnson. "The St. Paul Winter Carnival is one of the highlights of the season in the Twin Cities and EMC is proud to be a part of it."
Approximately 1,200 blocks of ice were harvested from Lake Phalen on Saturday, January 21, and were transformed into nine distinct towers scattered throughout Rice Park. EMC Project Manager Tim Duffy and Lighting Designer Keith DeFreese and their crew went to work setting up the lighting for the palace on Tuesday, January 24.
A 130-year tradition, the St. Paul Winter Carnival is a celebration of winter over 11 days that includes many events and activities, including live music, a treasure hunt, ice carving contests, a winter triathlon and several parades.
"Rice Park is great to see throughout the Winter Carnival, but I highly recommend coming at night, when you can get a full appreciation of the colored lights," said DeFreese. "The nighttime lighting makes for a magical atmosphere and it really lets you see the intricacies of the ice sculptures."
The carnival attracts over 250,000 visitors a year and has a nearly $5 million economic impact on the city of St. Paul. Planning is already underway for a massive ice palace for next year's celebration, which coincides with Super Bowl LII at U.S. Bank Stadium in Minneapolis.
About EMC
Energy Management Collaborative (EMC) provides leading-edge lighting conversion systems and service solutions in a broad range of retail, commercial, industrial and government facilities in North and South America. Since 2003, the company has used its turnkey project management approach, EnergyMAXX, to successfully implement lighting upgrade projects in all 50 states and Puerto Rico, saving clients across industries over 2.7 billion kilowatt-hours of energy.